Kid free vs. Kid friendly weddings!
Let's talk about the big dark cloud that looms over building a guest list. Every single couple has had this conversation it is probably the most common conversation around weddings. To invite children or not.
For every one couple that is fawning over the idea of having all the kiddos at their wedding there is another scared shitless over the idea of seeing kids running wild through their expensive venue.
Neither is wrong, just as neither is right. Every wedding and couple is different and you should do exactly what you want to do at every turn. My first disclaimer going into this conversation is to know that people will have an opinion no matter which direction you choose to go and I won't be the first or last to tell you... Don't rely on those opinions. They aren't worth your happiness.
JUMP TO:
General Advice:
Decide Early On.
Make the decision early in your planning process on whether you will invite kids or not to your wedding. This will help avoid any awkward conversations or last minute plans being made by parents. The #1 complaint you get from parents invited to the wedding when kids aren't is that they now need to find childcare. Making this choice quickly will probably make more parents inclined to come with enough notice.
Is It Okay To Not Invite Kids?
Yes. If you're having a later wedding, then its normal to not invite kids. If you think your guests are going to be rowdy and drunk or if you just don't want to. It's totally A-OK to choose not to invite kids. Just on the same note is it totally acceptable for parents to not bring their kids if you do allow kids to come. Best rule of thumb here is to let people do what they want including yourself!
Address Your Invitations Correctly.
The traditional way to confirm whether a child is invited or not is to include their name on the outer envelope just below the parents name. It's not ideal to put "Mr. and Mrs. Smith and family" that can leave room for interpretation. You don't need to include their name on the inner envelope but outer for sure. I also suggest you put clearly on the invitation "Children welcome." or the opposite "children not invited." If the child is over 18 regardless of where they live, they should get their own invitation. If you have a wedding website, I also suggest including a note on there about children's invitation statuses.
Call All Guests With Children.
Whichever way you choose to go, I suggest calling every person on your guest list that has a child. This way there really is no room for error. Let them know if kids are invited, what the day's schedule/activities are looking like, what food is being served and how soon you need there RSVP. If you are choosing to include childcare services for these guests, this is also a great way to let them know!
Will It Look Bad If I Only Invite Some Kids And Not Others?
It's usually best to choose one rule and stick with it. Once you start blurring the lines it gets harder to stand your ground and enforce your riles for everyone moving forward.
Granted, if let's say you have kids in your wedding party and/or people in your wedding party have kids - you may choose to allow those kids to attend and not others. Simple reasoning behind this is because they are guests of honor. You can also do a simple age cut-off. Kids are welcome over the age of X. But, this can get tricky to monitor as well. Bear in mind; you don't HAVE to invite the kids in your wedding party to the reception either. Just choose what you are most comfortable with, what you can explain and what makes the most sense for your situation.
Accentuate The Positive.
Of course, the wording you use to communicate that your wedding is kids-free is very important. Being too blunt may seem rude to your loved ones who have children. You don't want a guest's first reaction to be "They think my little darlings are a bother!" To avoid this, try to accentuate that your child-free wedding will be a chance for parents to unwind and have a great time.
A Q&A response to "Can we bring our kids?" could be something like: "We love your little ones! However, to allow all of our guests, including parents, the chance to have an evening of relaxation, we request that the ceremony and reception be for adults only."
Do Kids Need A Special Menu?
This is something to think about and you should discuss this with your caterer. Some places will offer a kids menu that you can choose from and have a select few for the kids that have a reserved seat. Typically, kids that are over 13 can eat whatever you are serving the adults.
Should I Have A Kids Table?
This is really a specific to you kind of situation. Anyone between the ages of 7-14 should have a "kids table" at this age, they are more likely to talk with each other, keep each other entertained and be less "parent -needy" throughout the event. Any kids under the age of 7 should be seated with their parent(s). There are plenty of ideas on how to keep kids busy throughout the day; on-site childcare, kids tent, kids room, kids tables, activities for kids.... the list goes on (Want more help? Schedule a clarity call with me!)
What If The Family Has A Caretaker?
So, it's becoming more common for people to have nannies or "everyday" babysitters (which is just a nice name for a nanny) If you choose to incite kids - this may come up. "Can my nanny come too?" If it's in your budget, I say by all means - invite them! It'll be less stress for the parents and kids alike! If your budget can't allow for it - disclose that to those parents as early on as possible.
PROS to a kid friendly wedding:
Everyone Is Welcome.
If you're looking to have as many guests as possible join you for your wedding day, consider including the kiddos. By inviting children along with their parents, you are ensuring that more people will be able to attend. Without the added costs or burden of having to find child-care, more parents of young kids will be able to celebrate with you. Oftentimes – especially for those that need to travel from afar – having the option to bring their children makes the decision to check "yes" on their RSVP card that much easier.
Extra Fun + Adorable Pictures.
At large parties, kids have a tendency to break the ice early on. They're always the first guests to hit the dance floor – which encourages adults to join the party – and they never feel awkward about their rusty dance moves! Children also tend to be an easy conversation starter; guests who may not know one another have a quick intro when discussing the little ones. Their antics at the reception can also lead to great family memories and punch lines for years to come.
No Awkward Conversations.
One of the biggest cons about an adult-only wedding is the awkward conversations that may need to happen beforehand when explaining the kids-free rules to parents of little ones. By including kids from the start, the awkward factor drops drastically!
CONS to a kid friendly wedding:
Unpredictable.
Most couples spend months planning their wedding. Obviously, the target of all this planning is to avoid any and all unpredictability on the big day. However, kids are like little walking question marks – will they behave, did they nap enough, are they due for a big outburst? The unpredictable nature of kids is what prompts many couples to omit the littlest of guests and wedding party members. So if including the kids, think ahead! A well-timed bribe of candy, a coloring book, or a dollar store gift can go a long way towards a happy and compliant child!
People Will Leave Earlier.
For those parents that do bring kids, their timeline for the day is not their own. Parents of young children are slaves to the schedule – and bed times are not something to be disturbed. Therefore, close friends or family members may need to depart before the party really gets started in order to put a little one to sleep. If this is a concern, consider providing an onsite babysitter or babysitter recommendations (for out of town guests) so that parents can party the night away on their own schedules.
Kids Are Weirdos. Hehe.
Whenever family and friends get together, parents always tend to assume that someone – somewhere – is keeping an eye on their child. Oh, I'm sure Aunt Mary is watching Little Johnny…Therefore, in a large crowd, this can get overlooked when everyone assumes that someone else is being responsible. This mindset can lead to kids wandering off, running wild, and/or wreaking havoc on your wedding vendors. Consider an onsite babysitter or kids' room/table with kid-friendly activities provided if you are including children and want to prevent them from being unattended for large stretches of time!
PROS to kid free weddings:
Smaller Guest List. Bigger Budget.
When omitting kids from the guest list, your count will inevitably come in a bit lower. This is obviously a great pro when hosting a budget-friendly big day. Wedding catering can be pricey – even when providing kid-specific meals – so this option can help to cut down on rising costs.
Guilt Free Party.
With the kids tucked away at home in the care of a family member or babysitter, guests are able to let loose. They aren't preoccupied with a fussy toddler or a quickly approaching bedtime. Instead, they're able to have a night on the town. Haven't we all seen that new parent at a wedding who's enjoying their first night out after kids – maybe a little too much!? They tend to be the life of the party. However, the next morning with little ones might not be as much fun…


CONS to kid free weddings:
Less Guests.
When parents are asked to leave the kids at home (especially those traveling from afar), they oftentimes have to forego the festivities if they're unable to find/afford a weekend's worth of childcare. Therefore, don't be offended if the parents of a new child or family with multiple kids are unable to attend. Understand that they most likely are dying to be there, but just unable to make it work without the kids coming too.
"That" Conversation. Let's Get Awkward.
Some parents are blind to their kiddos' annoying ways and bad habits and fail to understand how you could ever celebrate your big day without them present. These particular parents have no qualms about calling or texting to find out why the kids weren't included – so be ready with a response in case this should happen. This scenario can be somewhat avoided with careful wording on your reception card (included in your invitation) and on your wedding website. However in most cases, these guests with questions aren't being confrontational – they're just double checking to make sure they understand who is included on the invitation. Be patient with these inquiries and be ready with a basic response – budget constraints, venue number limitations, party vibe, etc. By being prepared and unguarded, everyone will come out of the conversation unscathed!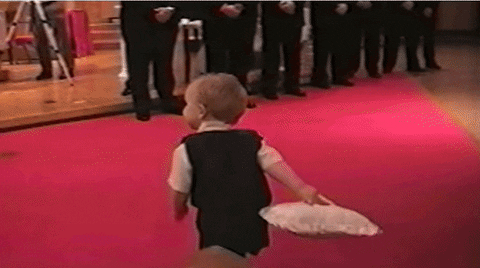 So, as you can see there are many ups and downs to going kid free or kid friendly. Planning a wedding in Michigan can be difficult. There are so many little details to organize which can get overwhelming quick! Don't stress out about it. I promise it will all work out as long as you and your partner are staying true to yourselves.


ALRIGHT! That's all I've got for you today. Bottom line is this... If you want to invite kids to your wedding do it. Just be respectful to parents. If you choose not to invite kids to your wedding, be understanding to parents. I myself am not a parent so, I can't speak from experience. I can only speak as a wedding pro and being empathetic to those with children on guests list. Put yourselves in their position and go from there. Consider your budget, consider how many people on your guest list has kids and then consider how'd you entertain those kids.
Most importantly, set a rule and stick with it. Don't blur the lines for anyone.